Distributing Tourism Brochures & Visitor Guides Since 1986
Local & Family-Owned

We connect visitors with your tourism destination or attraction. TDS distributes your brochures, rack cards, and visitor guides to our 1,125+ Mid-Atlantic locations, the majority of which have attractive TDS-owned displays. We place your message directly in front of tourists and decision-makers in crucial travel markets. Your materials are readily available when visitors are ready to make choices about where to go and what to do next.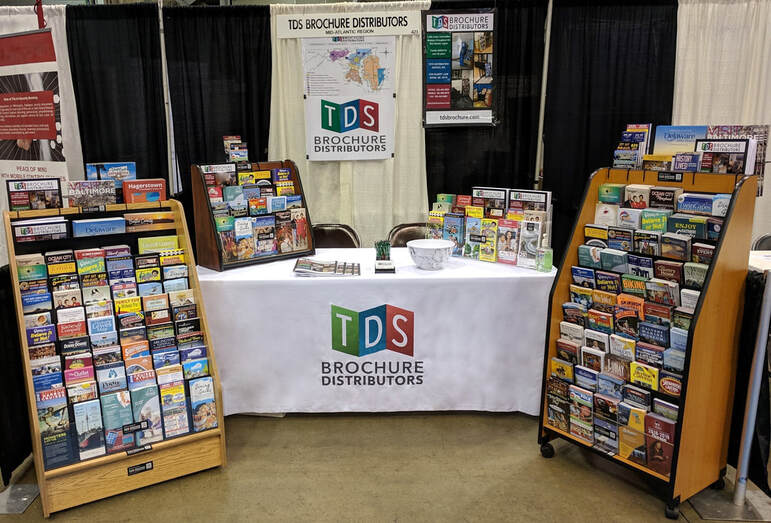 ---
---
If you are looking to attract local, regional, national, and international visitors to your site or business, we can help you.
We stock and resupply the attractive visitor information displays you find in hotels, visitor and welcome centers, government and corporate offices, military bases, and Amtrak stations. With the help of TDS Brochure Distributors, our tourism clients are able to expand their marketing outreach efforts to gain access to travelers who explore the Mid-Atlantic region.

---
TDS representatives personally service our locations on a regular basis, and the majority of our locations have attractive TDS-owned displays. Our reps use low-emission, fuel-efficient vehicles to move your brochures from TDS warehouses to our display locations. We check our locations frequently to ensure our displays remain neat, fully-stocked, and appealing to visitors. And we never charge our locations for displays or service.

---
We distribute at points throughout the Mid-Atlantic region. Our routes are divided into schedules, which are geographically-concentrated areas within the TDS network. We design our schedules to appeal to visitors within specific markets. Contact us for detailed lists of our itemized distribution points.

---
GETTING STARTED

---
Click
here
to review our distribution schedules and map.
---
Click
here
to provide us with your contact information. We'll work with you to recommend a distribution strategy and marketing plan that will give you the best possible exposure within your budget. Whether you're a large DMO or a seasonal operation, be assured we're experienced in promoting destinations and also special events.
---
Click
here
to view our Design and Print Advice for suggestions on creating an effective and attractive brochure.
---
After you sign up for our service, send your marketing materials to one of our TDS warehouses. If we print for you, we'll take care of printing and shipping directly to our warehouses. Click
here
to review our Shipping Instructions.
---
---
Brochure distribution is effective.
Research studies conducted by Bentley University's Center for Marketing Technology confirm that brochures are effective in today's advertising market.
Brochures convince tourists to stay longer, visit more attractions, and share information.
They're tangible, convenient, always available, and easy to use. Click
here
for brochure research data.
---
HOSTING A TDS DISPLAY AT YOUR LOCATION
---
Click
here
to let us know you'd like a display. We provide our displays free of charge, and we have a variety of size and finish options to match your decor. Your guests will enjoy having a variety of tourism options at their fingertips. Brochure displays showcase the widest choice of experiences to your guests, and satisfied guests will return and recommend you.
---
Professional Affiliations

Baltimore Tourism Association
Blue Ridge Parkway Association
Experience Prince George's County
Greater Bowie Chamber of Commerce
Greater Ocean City, Maryland Chamber of Commerce
Maryland Center for History and Culture
Maryland Tourism Coalition
Ocean City, Maryland Convention and Visitors Bureau
Rehoboth Beach-Dewey Beach Chamber of Commerce
Talbot County Chamber of Commerce
Virginia Association of Destination Marketing Organizations
Visit Baltimore
Visitor International

---